Pin It
Hello, lovelies. This is the very first piece of apparel I have ever sewed for myself. The only other clothing I sewed was a pillowcase dress for a friend's baby. I am so proud of myself for making a dress that I can actually wear. It is not perfect; The buttonholes are a little big, uneven, and not quite straight, but it is
my first
dress, so I won't beat myself up about it. It is from the
Vintage Vogue 2960 pattern
.
I learned so much about proper fit and alteration of pattern while making this dress with the help of
The New Complete Guide to Sewing
(TNCGTS). The book is amazing. Apparently, I have very straight posture, so the back was gapping. You can see that I learned how to add a tuck to prevent the gapping. I truly am a beginning sewer, so even the most basic of instructions on the pattern would make me say, "Huh?" I just grabbed TNCGTS and found very clear illustrations and instructions so that I could do everything required to make this dress. I highly recommend the book to any beginning sewers or anyone who wants to start sewing.
Like I said, this is the first dress I sewed for myself and it has big imperfections, but I love it. And it is super twirly. I can't wait to wear it for my friend's wedding next month.
What are your favorite crafty things to do? What are your favorite things this week? Check out Tuesday's Treats!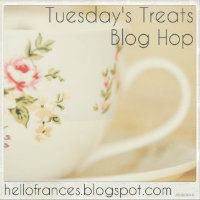 Have a great week!
~Alexis