Pin It
Being in my mid 30s, I am always on the lookout for great skincare products. I am fortunate to have very even skintone, but this "Sleeping Facial" also claims to provide a brighter complexion too. The description on sephora.com states, "This overnight facial-in-a-jar is a breakthrough in beauty sleep. More than a mask, more than a night cream, it contains the Korres Phos Compound, a proprietary blend including a brightening agent and stabilized vitamin C. Day after day, week after week, uneven tone and dark spots will continuously improve. After only 14 days you'll see skin that's brighter, more even-toned, and exceptionally radiant."
At about $50 for less than 1.5 ounces, I would hope that it was an amazingly good product. Maybe one day I'll splurge on it and see if it as awesome as I hope it is.
What are you lusting after or loving today. Share it on the Tuesday's Treats blog hop.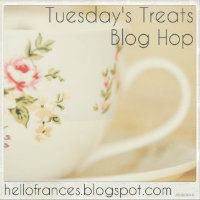 Has anyone tried the Korres Wild Rose + Vitamin C Advanced Brightening Sleeping Facial? Have you heard about it?
Current followers, don't forget to enter my giveaway!
Enjoy your Tuesday!
~Alexis